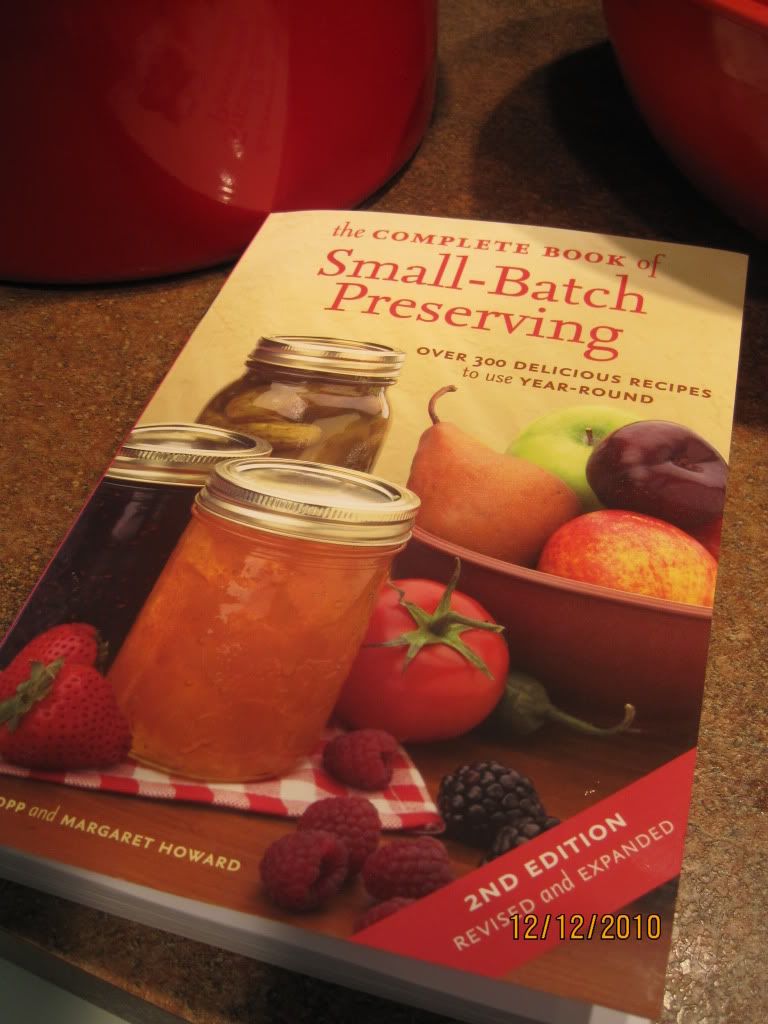 This is my favorite cookbook right now (Thanks Mom!). This has some great small batch canning recipes for hot water bath canning. And since it's just me most of the time (with a little guy for half of the week) it comes in handy when I don't want to make a big batch of something. I decided to make some recipes from the book for holiday gifts - and of course to fill my pantry with home canned goodies!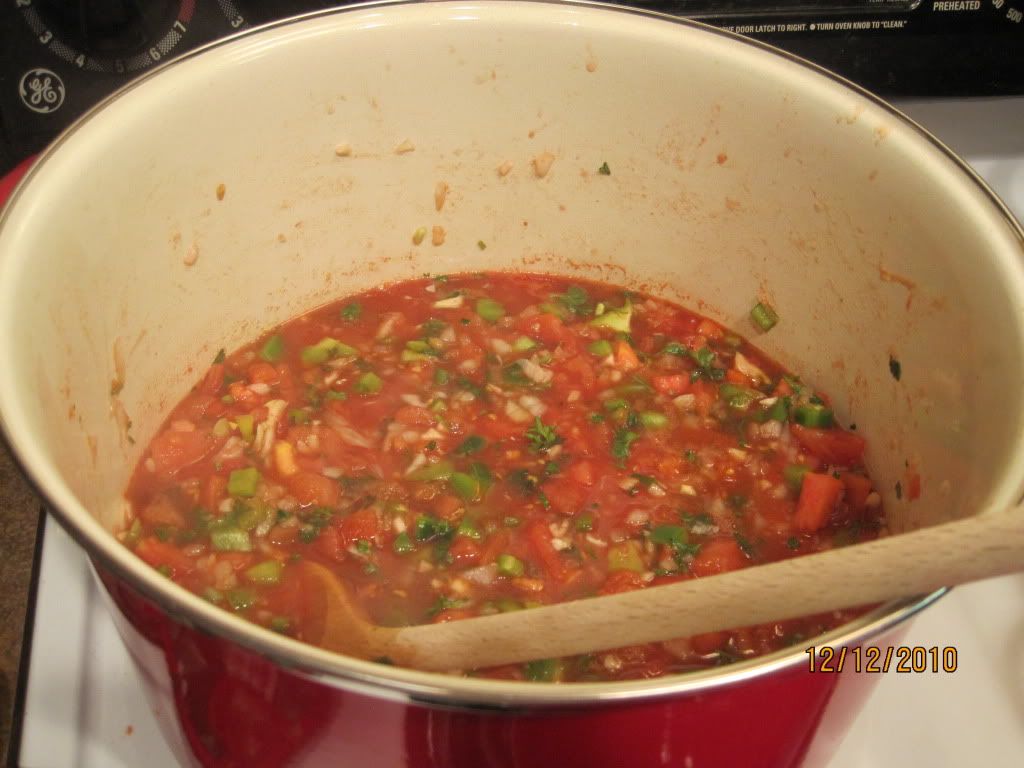 The first thing I made was "Your Basic Chunky Tomato Salsa". It was very easy to make and I even added some cilantro to the mix. I was able to use up the last of the onion I got from Grandpa's house in Utah and the garlic too. The funniest part was when I cut up the jalepenos and breathed them in! Rowdy asked if I was ok! I now know to get plastic gloves to cut them up for next time - and maybe a mask!
I ended up getting 3 pints and 3 half pints of this - four jars for gifts and 2 pints for my pantry! A co-worker has already cracked open a jar and said it was delish! I am sure this recipe will be a keeper.
This was the first time I have ever used cranberries. I just love the rich red color of them. So lovely! With these beauties I made "Festive Cranstrawberry Jam". I just loved that this recipe called for me to chop up a whole orange - rind and all! The smell was grand in the kitchen when this was boiling on the stove!
And doesn't it look lovely in my new Ball jars? I was able to get 6 half pints out of this - 3 for gifts and 3 for my pantry. I was a little stingy with this one. I can't wait to try it! The next jam I am going to can is Cranana Jam - yep, you guessed it - cranberries and bananas, yum!
Both of the above recipes can be found in "The Complete Book of Small-Batch Preserving" by Ellie Topp & Margaret Howard.
Now onto Holiday Baking with Grandma White and Rowdy!
There is my kitchen helper - Rowdy. He is shelling chocolate kisses to use in Peanut Butter Blossom Cookies. He shelled the whole bag for me. He was such a big help on Holiday Baking Day with Grandma White!
His next job was to roll the PB balls in sugar and put them on the pan. He completed it with ease. He then helped put the kisses on the cookies! Voila! Blossom cookies.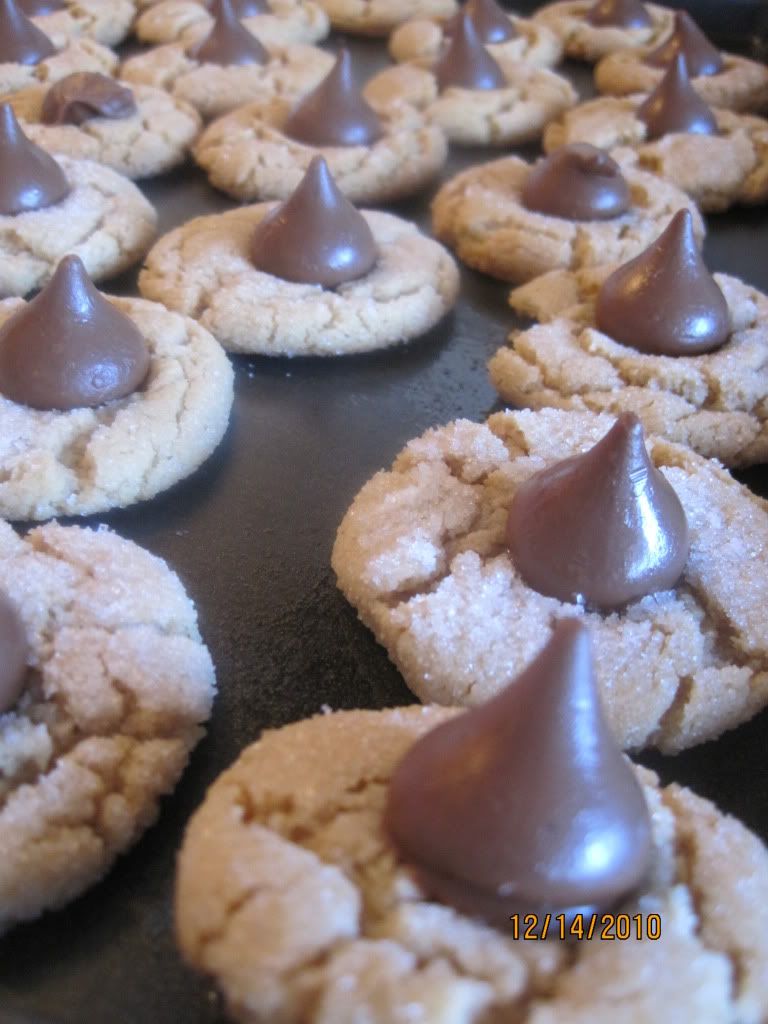 We also made the traditional sugar cookie which he took on sprinkle duty.
In one day we made PB blossoms, choc chip cookies, sugar cookies, choc chip zucchini bread (where I had a cocoa powder mishap), pb choc fudge, garlic pretzels, and jingle balls (choc covered pb)!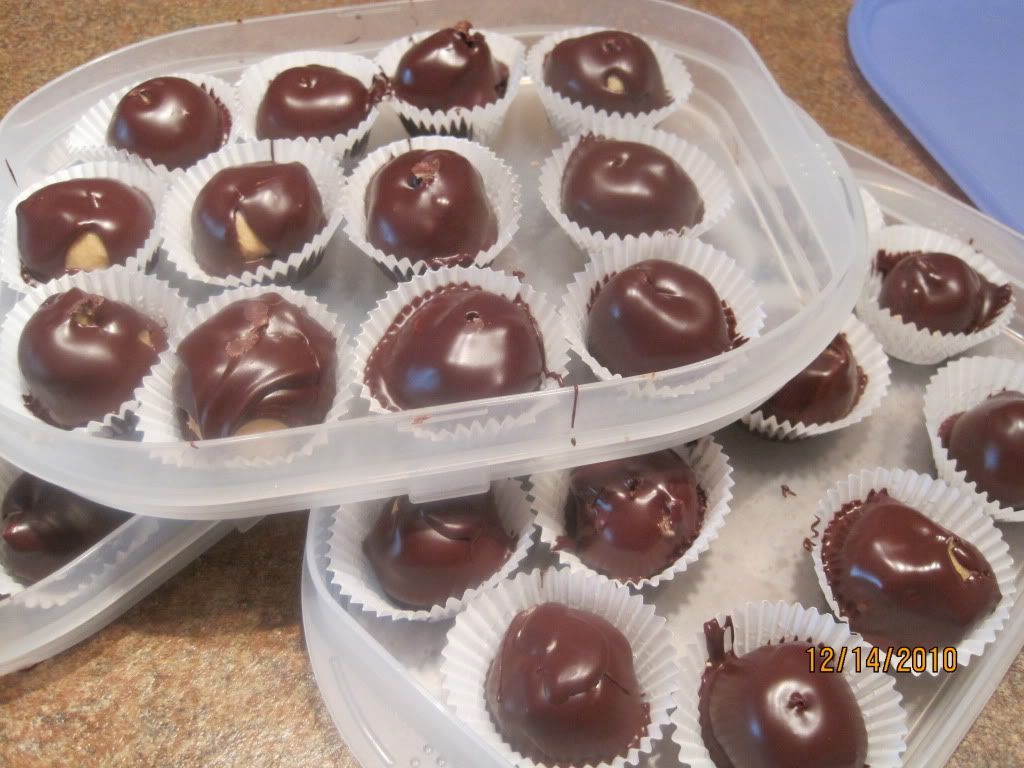 Most of the goodies went to work as I use these to bribe my employees to do anything I want! Totally kidding but they do enjoy these treats. They always ask for the pretzels and jingle balls. I guess now I am famous for them! I wish I could take the credit for the recipes but alas, they are not mine. But they sure are keepers!
Next up.....I will dabble more into canning cranberry goodies!