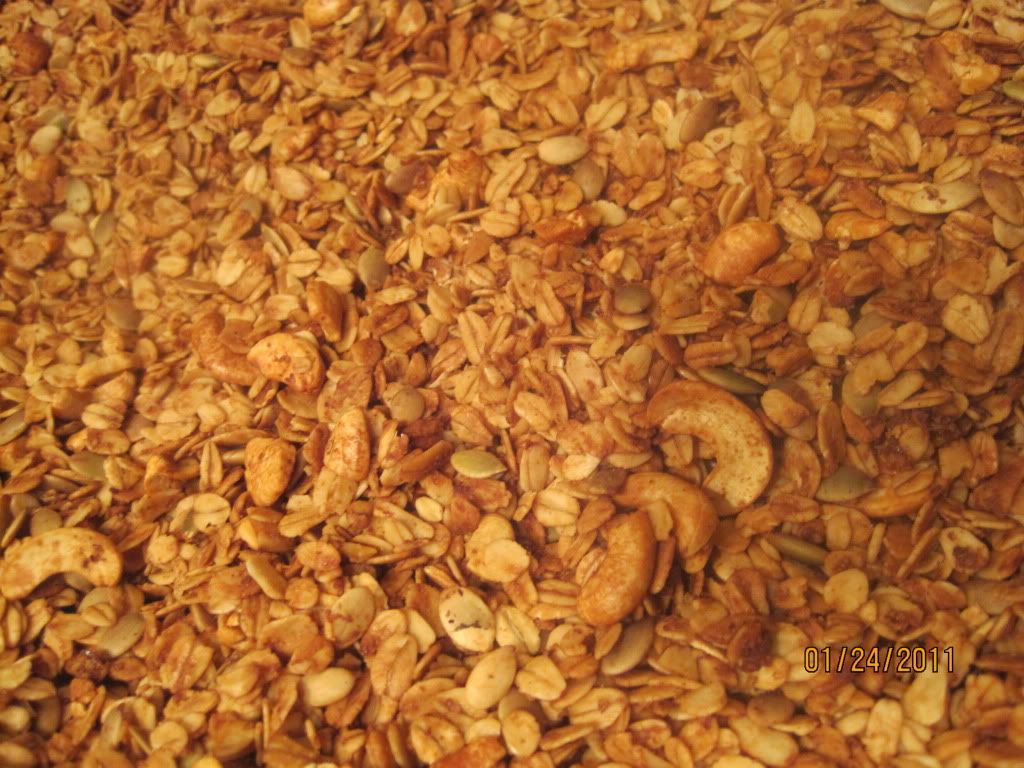 One of my new year's resolutions was to eat more healthier. I have been dabbling in raw foods and trying to incorporate healthy stuff into my diet. So I tried my hand at making homemade granola the other day and I have only one thing to say - YUMMY! Why didn't I ever do this before?? I am putting it in my greek yogurt (it makes it taste alot more like regular yogurt) or eating it with some 1% milk. Rowdy has also been snacking on it! We just can't get enough. I think this will be a staple at the Rowdy and Mommy Homestead!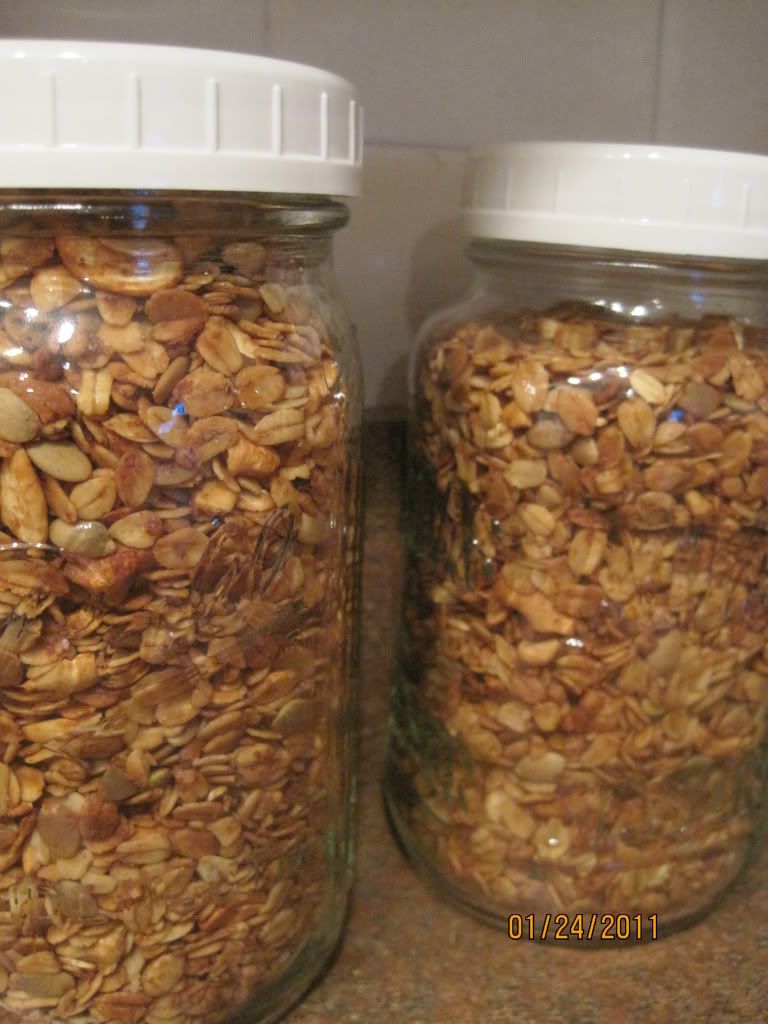 This is roughly the recipe I used. I looked at a bunch of different recipes and came up with this one. It has a lots of healthy stuff in it. If you don't have all the stuff, you can substitute (use honey instead of agave for instance) or just leave it out. You can't really mess this up! If you like dried fruits with your granola (raisins, craisins, etc) add it to the final product after you have baked it. This amount made 1 Quart jar and 1 Pint jar of granola for me.
Homemade Granola ala Stephanie
4 Cups Rolled Oats (not quick oats)
1 cup raw pumpkin seeds
1 cup raw cashew pieces (or any 2 nuts you like)
2 Tbls ground flax
2 Tbls wheat germ
2 Tbls cinnamon
1 Tbls nutmeg
1/2 cup coconut oil
1/2 cup agave nectar
2 tsp vanilla
Mix all dry ingredients in a roasting pan (or a couple of cookie sheets). On low heat, melt the oil, agave, and vanilla until liquid. Pour the liquid over the dry ingredients and give it a good stir. Bake for 20 minutes at 275 degrees. Take out and stir. Put back in for another 20-25 minutes until golden brown. Let cool and put in containers (after cooling, this is where you will want to add any dried fruit). Will keep for 2-3 weeks.
I sat down and made a list of my New Year's Resolutions for 2011. Many of them will not get crossed off - they will be ongoing - and I may add some or subtract some. I added them to the right side of my blog. I really want to make an honest effort to follow this list. There have been alot of changes in my life in the last few months and I realized that I need to change a lot in my life because of what's happened. I just want to be a good person and live my life to the fullest.
I wish everyone a Great 2011! What are your New Year's Resolutions?