"Give Me Thine Food And I Shall Can The!"
I have been a canning fool, I tell ya! Dale is making fun of me, but oh well! This is fun!
I canned 5 pints of tomato sauce - tomatos, garlic, and onion were from Grandpa's garden while the basil and green peppers were from mine! I shall call it the famous "Family Affair" tomato sauce! I also canned 3 pints of pickles. We will see how they turn out as I didn't let them sit in a brine for 24 hours. I might have mushy pickles but I will know better for next time. The tomato sauce, however, came out superb as there was a little bit left so I mixed it with some penne, basil, grilled chicken, and some parmesan for dinner that night! Delish!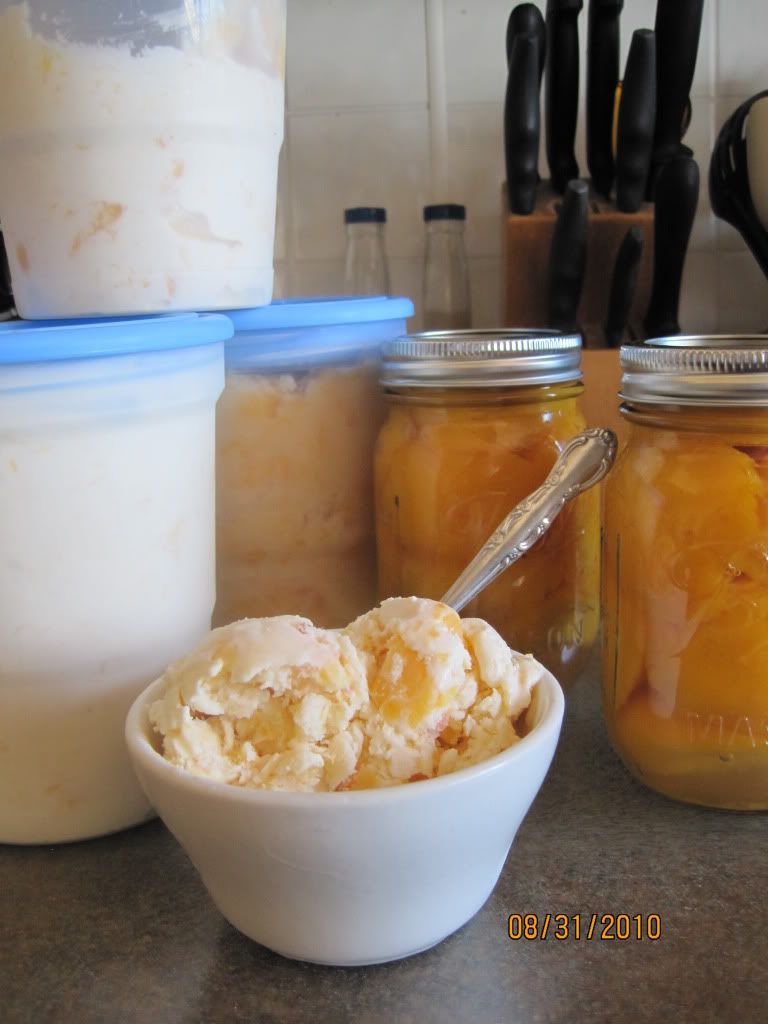 Remember all those peaches I mentioned on my last post? Well, they have been canned and creamed! Ice cream that is! I made 3 containers of Peach ice cream and had enough to can 2 pints of peaches in apple juice! The canning of peaches is a little bit of a pain because it's a lot of work but I didn't want to waste them. I think it was worth it!
I finally ran out of stuff to can and went looking in the pantry to find something since I was on a "canning roll". I was about to open a can of fruit to can it again (not really) when low and behold I remember the 2 bags of apples Dale had purchased to dehydrate and never got around to! Apple butter, here I come, uh can, uh whatever! This stuff is the bomb diggity! I don't want to give it away! I just want to stash it away and say "my Precious" over and over!
Now that I feel like Mrs. Cleaver I think I am gonna go sew me a pretty apron and bake a pie.....nah! That's too much work!